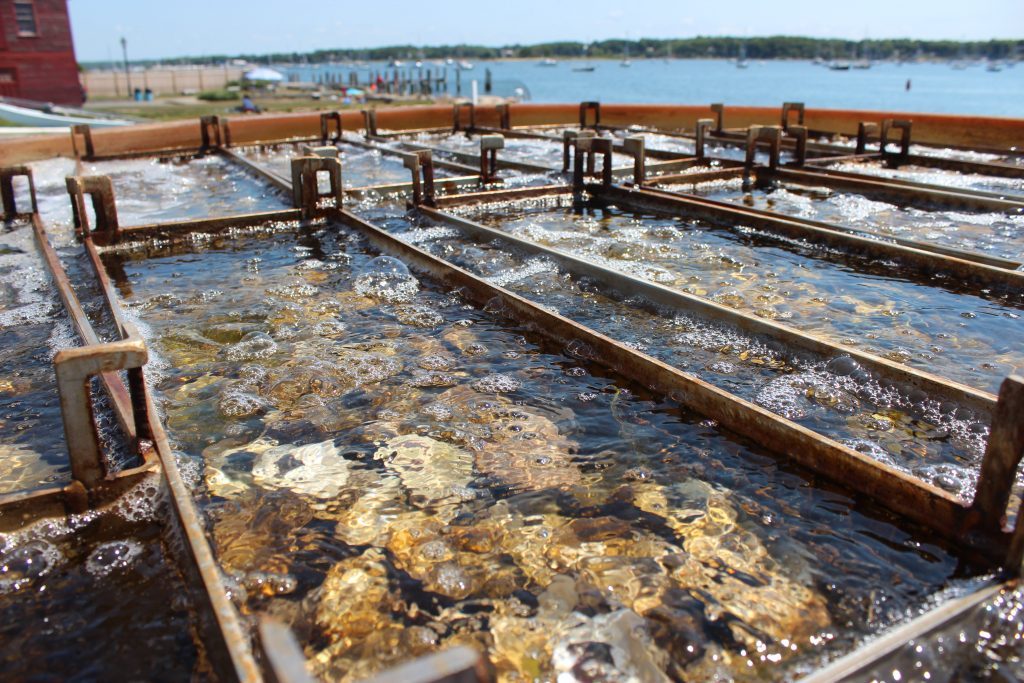 Getting Started in Aquaculture
This website includes technical and regulatory information to assist prospective producers who are getting started in aquaculture in Connecticut.
MARINE AQUACULTURE
Marine aquaculture permitting involves authorization to use the physical farming space, as well as authorization to use the structures (e.g. cultivation gear). The Guide to Permitting Marine Aquaculture is available to aid prospective producers.
Individuals are encouraged to use the Aquaculture Mapping Atlas to inform their site selection process. The Atlas contains human use and environmental data that is important to consider when planning for aquaculture.
Permission to use space
Anyone interested in conducting commercial aquaculture or aquaculture-related research, outreach or restoration projects must acquire permission to use that space. Typically, the mechanism for using such space is a lease or license agreement. To determine available area in town waters, contact the local shellfish commission (see list below). For state waters, please contact: CT DA/BA at (203) 874-0696 x 103 or david.carey@ct.gov
     Application Forms
Permission to use gear systems
To use cultivation gear (e.g. bags, cages, long lines, predator netting, etc.), you must submit a Joint Application for Marine Aquaculture (see below) which must be submitted to the State Aquaculture Coordinator located at the office of the Connecticut Department of Agriculture, Bureau of Aquaculture in Milford, CT.
     Application Forms
Production Licenses
A separate application is required to sell aquaculture products (for public consumption) to the public.
Application Forms
To learn what forms are required for your operation, please contact the Connecticut Department of Agriculture, Bureau of Aquaculture at (203) 874-0696 or email: david.carey@ct.gov.
INLAND AQUACULTURE
Regulatory Contacts
CT Department of Agriculture, Bureau of Aquaculture (DA/BA)
David Carey and Shannon Kelly (203) 874-0696
CT Department of Energy and Environmental Protection (DEEP)
Krista Romero (860) 424-3399
CT DEEP, Boating Safety Division
Mike Payton
US Army Corps of Engineers
Cori M. Rose
Town Shellfish Commissions – click here for individual town contacts
Extension Service
Connecticut Sea Grant and UConn Extension:
Tessa Getchis  (860) 405-9104 – shellfish/finfish aquaculture, permitting
Anoushka Concepcion (860) 405-9105 – seaweed aquaculture
Nancy Balcom (860) 405-9107 – seafood safety, HACCP training
Robert Pomeroy (860) 405-9215 – agricultural economics, marine ornamentals
Aquaculture Species and Systems
Farmers are restricted to the use of native species only. Any product including eggs, larvae, seed, broodstock and shell must be source from Long Island Sound or Connecticut or Long Island, New York-based hatcheries. Special permission may be obtained to import aquaculture product. Contact the CT DA/BA for details.
To learn more about aquaculture systems and species click here: https://agresearch.umd.edu/sites/default/files/_docs/104-2008%20Aquaculture%20systems.pdf. To learn more about cultivation gear, practices and concerns (e.g. pests, predators, diseases, etc. relative to this region of the U.S., take a look at the Northeast Aquaculture Management Guide:  http://agresearch.umd.edu/nrac/northeastern-us-aquaculture-management-guide
Seafood Safety Training
All aquaculture operations are required to have someone trained in seafood safety (sanitation). The Connecticut Sea Grant program offers this course in the spring and fall. Plan early as courses do fill up quickly. See:  https://seagrant.uconn.edu/focus-areas/sustainable-fisheries/seafoodsafety/ for basic seafood HACCP class. For info, contact Nancy Balcom nancy.balcom@uconn.edu at 860-405-9107.