Aquaculture Mapping Atlas 
New Version Available!

The
Aquaculture Mapping Atlas
is a free online planning tool that can be used to view and overlay data and create and print maps relating to shellfishing and aquaculture.
Recreational Harvest App

Coming Soon!
The
Recreational Harvest Application
is a tool that provides maps of harvest area locations, regulatory information (permit costs, sale locations, species and size restrictions, etc.) and other information such as tide charts for recreational shellfishing in Connecticut.
Shellfish Area Status
Coming Soon!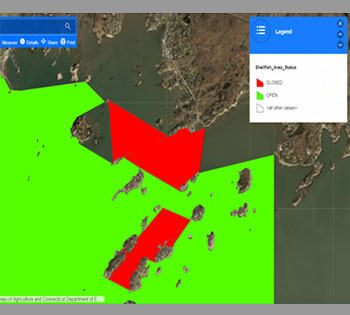 The Shellfish Area Status application is an online tool that indicates the status, opened or closed, of commercial and recreational shell fishing harvest areas in the state.  This application will maintain closure status in real-time in order to provide the most current information to recreational and commercial harvesters.
These mapping tools were developed in collaboration with UConn Center for Land Use Education and Research, the Connecticut Department of Agriculture, Bureau of Aquaculture and Connecticut Sea Grant. Funding was provided by Connecticut Sea Grant, NOAA National Sea Grant and the Connecticut Department of Agriculture.