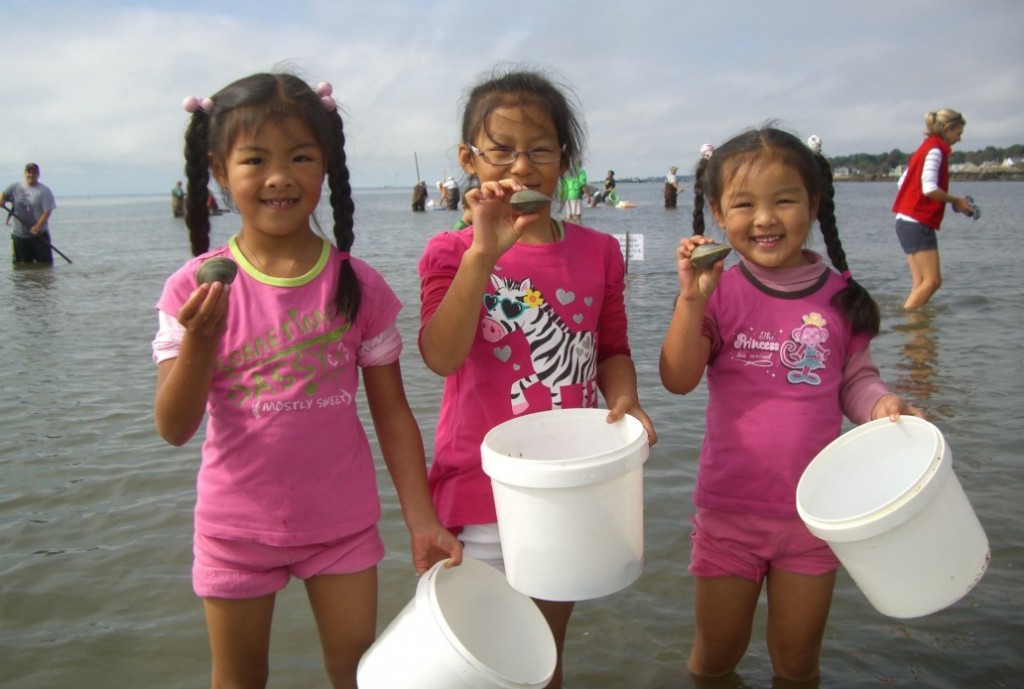 About
Recreational shellfishing is allowed in 15 coastal Connecticut towns. Each town sets its own rules including permit fees, species, seasons and catch limits. Always remember to have a cooler full of ice when heading out. Keep the shellfish cold and immediately transfer to refrigerator upon return.
Access Rules and Shellfish Harvest Locations
2020 Guide to Recreational Shellfishing in Connecticut 
Shellfish Harvest Area Maps (select "recreational shellfish beds" from the layer list and zoom to your town)
Management Guidance
State Regulatory Guidance Documents
Interstate Shellfish Sanitation Conference (ISSC)
Illicit Discharge Detection and Elimination Manual
Annual Gathering of Shellfish Commissions
Organized by Connecticut Sea Grant, this meeting covers all aspects of local shellfisheries management and features regulatory guidance from the Department of Agriculture/Bureau of Aquaculture. Contact: tessa.getchis@uconn.edu or (860) 405-9104.
2021
17th Annual GSFC
Presentations (download PDF): VanGulick (HAB), VanGulick (Cyanobacteria), Dragan (Conditional area mgmt) and handout, DeRosia-Banick (disease update), Getchis (Shell Restoration) Getchis/DeRosia-Banick (Climate)
2020
16th Annual GSFC agenda
Presentations (download PDF): Barrett (climate) Haynes )(plastics), DeRosia-Banick, Dragan (Conditional area mgmt, Carey, Van Gulick (HAB)
2019
15th Annual GSFC agenda
2018
14th Annual GSFC agenda
2017
13th Annual GSFC agenda
Presentations (download PDF): DeRosia-Banick, Yeadon, Dragan, Pomeroy, Concepcion, Getchis
2016
12th Annual GFSC agenda
Presentations (download PDF):Brysh, DeRosia-Banick, Getchis, Macklin, Nikituk, Savona Surabian, UConnEngr, Yang
2015
11th Annual GSFC agenda
Presentations (download PDF):
Getchis, Pawlik, DeRosia-Banick, Pomeroy, Chadwick
2014
10th Annual GSFC agenda
2013
9th Annual GSFC agenda
2012
8th Annual GSFC agenda
2011
7th Annual GSFC agenda
2010
6th Annual GSFC agenda
2009
5th Annual GSFC agenda
2008
4th Annual GSFC agenda
2007
3rd Annual GSFC agenda
2006
2nd Annual GSFC
2005
1st Annual GSFC
2001-2004
Eastern Commission Meetings